It's super easy Banana cake with cream cheese frosting is moist and delicious with a hint of cinnamon throughout.
If you have plenty of ripe bananas, be sure to check out my A bowl of banana bread and chocolate chips also! He's a keeper!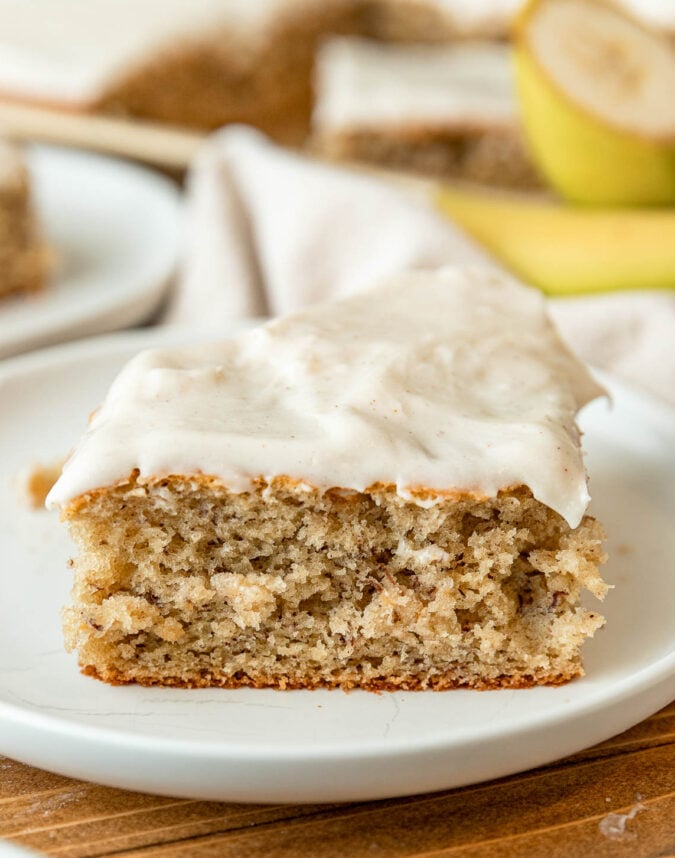 I brought this delicious banana cake to a family party and it was a huge hit. Everyone came back for a few seconds!
Difference between banana bread and banana cake?
So what exactly is the difference between banana bread and banana cake?
Banana bread is generally denser and baked in a loaf pan with a coarser crumb texture.
A banana cake has a lighter and airier cake consistency, while being very moist because of the bananas. The crumb texture on a banana cake is also lighter and less dense.
Easy Banana Cake with Cream Cheese Frosting
The reason I decided to bake this cake in a large baking sheet is because of the cake to frosting ratio. I wanted the cake to be moist and tender, but not too thick.
Spreading the batter in a baking sheet made the cake thinner, yet still moist and the frosting on top was the perfect amount to give that extra touch of sweetness.
Ingredients for the banana cake:
Here is the basic list of ingredients you will need to make this simple banana cake recipe. As always, you can find the full ingredient list in the recipe card below.
ripe bananas
All purpose flour
baking powder
Baking soda
Cinnamon
Butter – unsalted
Sugar
brown sugar
Eggs
Buttermilk – you don't have it? Try doing it with this easy trick!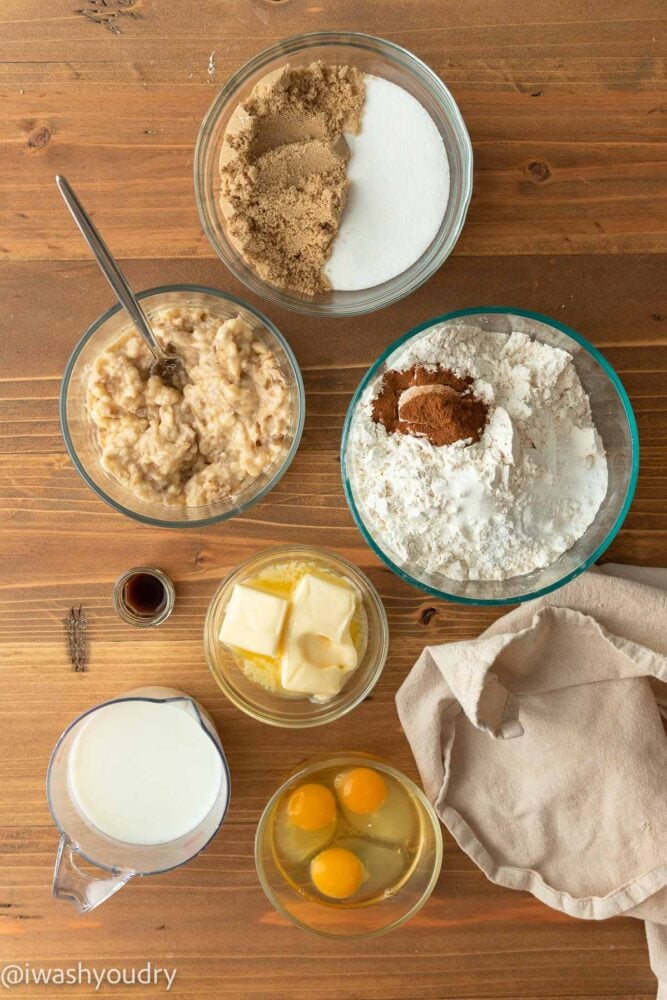 How to make banana cake
CREAM THE BUTTER To make this easy banana cake from scratch, start by creaming butter in a bowl until nice and fluffy, about 1 minute. Then add the sugar and brown sugar and continue beating for another 2 minutes until well combined.
Be sure to scrape the sides of the bowl as needed.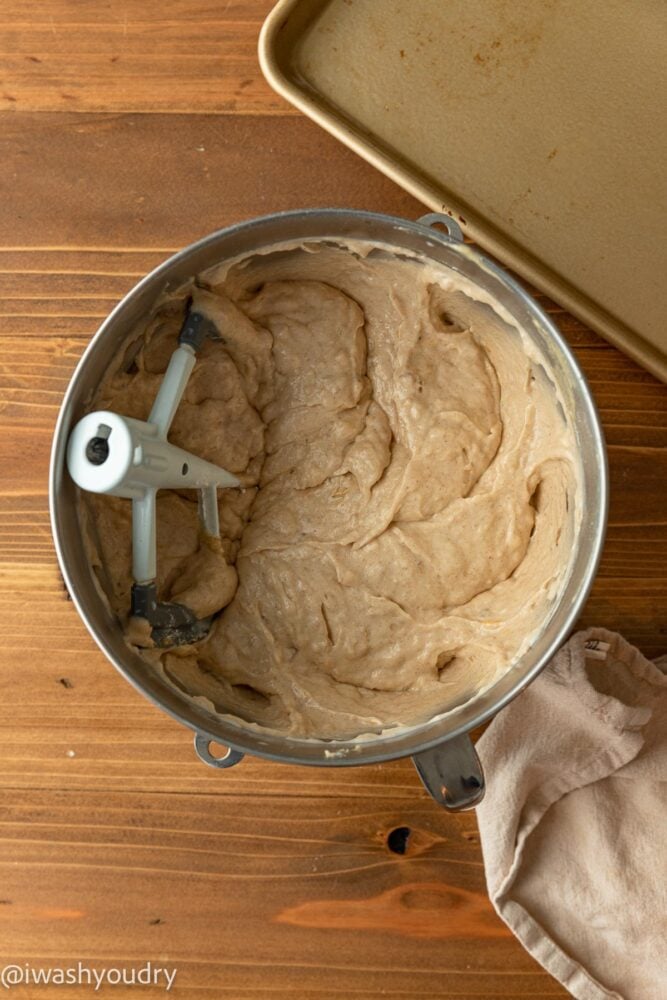 ADD WET INGREDIENTS Add the eggs one at a time, continuing to beat in between. Then add the mashed banana and vanilla extract.
ALTERNATIVE DRY INGREDIENTS Finally, alternate adding the dry ingredients to the wet ingredients with the buttermilk. Keep beating until combined. Spread the batter into a prepared baking sheet and bake until a toothpick inserted in the center comes out clean.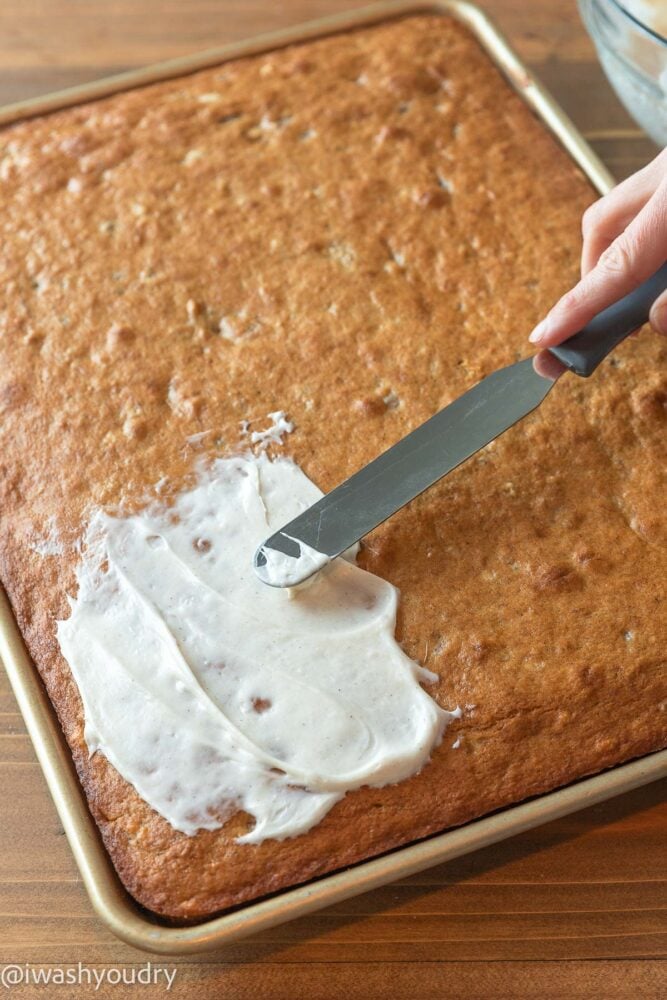 Cinnamon Cream Cheese Frosting
A simple touch of cinnamon in the cream cheese frosting makes the whole cake taste deliciously warm.
Here's what you'll need to make this creamy, scrumptious frosting…
Cream cheese – softened
Butter – softened
Vanilla extract
salt
Cinnamon
Granulated sugar
Place the butter and cream cheese in the bowl of your mixer fitted with the paddle attachment and beat until creamy. Add vanilla, salt, cinnamon, and powdered sugar and mix on low speed until combined, then increase speed and beat until fluffy.
Spread the frosting completely over the cooled cake.
PRO TIP: Since this cake contains cream cheese in the frosting, it will need to be stored (covered) in the refrigerator.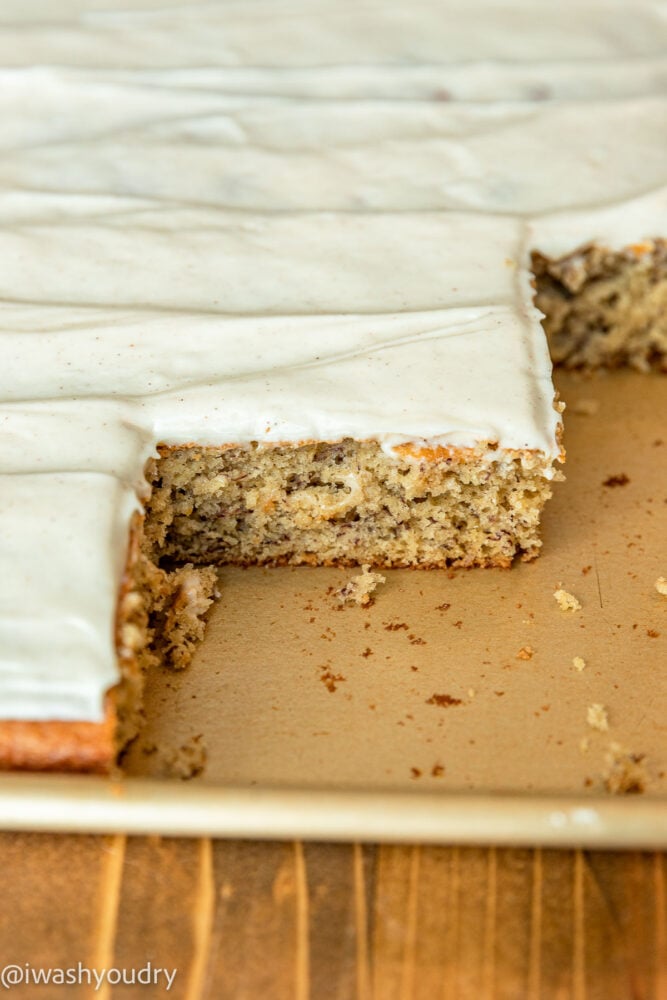 What size cake pan?
As I mentioned earlier, we bake this banana cake in a baking sheet of about 13″ x 18″. It's called a "Half-sheet" in the baking world.
I have this set from Amazonwho includes a sturdy lidwhich makes it easier to bake the cake and keep it in the fridge.
Can I use a 9×13 pan?
With this recipe, you're better off using a baking sheet. If you don't have a baking sheet and prefer to use a standard cake pan, give this Banana Crumb Cake recipe to try!
More ways to use ripe bananas
If you have a plethora of ripe bananas to use, I have several other recipes to try!
I can't wait for you to try this easy banana cake with cream cheese frosting! I know you will like it as much as we do.
Banana cake with cream cheese frosting
Course: Dessert
Kitchen: American
Servings: 16
calories: 505 calories
Author: Shawn
Instructions
For the banana cake:
Preheat oven to 350 degrees F. Grease a 13″ x 18″ baking sheet with nonstick spray and set aside.

Mash the bananas in a bowl with a fork until smooth, then set aside.

In another bowl, whisk together flour, baking powder, baking soda, cinnamon and salt. Put aside.

In the bowl of a stand mixer, beat the butter with a spatula for about 1 minute, until nice and creamy. Add sugar and brown sugar and beat another 2 minutes until creamy. Add the eggs one at a time, while continuing to beat on low speed. Incorporate the vanilla extract. Scrape down sides of bowl as needed.

Add the mashed bananas to the wet ingredients and mix well. Finally, alternately add ⅓ of the flour mixture, then ⅓ of the buttermilk to the wet ingredients, beating well in between. The mixture will be slightly lumpy and that's okay.

Spread batter evenly in prepared pan and bake for 30 to 35 minutes, or until toothpick inserted in center comes out clean. Remove from oven and place on a wire rack to cool completely.
For the icing:
Beat cream cheese and butter together until light and creamy. Add vanilla extract, cinnamon and salt and mix.

Add the powdered sugar to the bowl and mix slowly until incorporated, then increase the speed and beat for an additional 2 minutes until light and fluffy.

Spread frosting evenly over cooled cake. Cover and store the cake in the fridge until ready to serve. Enjoy!
Remarks
Since the frosting contains cream cheese, this cake should be stored in the refrigerator for optimal freshness.
Nutrition
calories: 505calories | Carbohydrates: 76g | Protein: 6g | Fat: 21g | Saturated fat: 12g | Polyunsaturated fats: 1g | Monounsaturated fat: 5g | Trans fat: 1g | Cholesterol: 88mg | Sodium: 315mg | Potassium: 233mg | Fiber: 2g | Sugar: 50g | Vitamin A: 717UI | Vitamin C: 3mg | Calcium: 81mg | Iron: 2mg
Keywords: Banana, cake, cinnamon
Now available!
The everyday cookbook
I Wash You Dry's top favorite recipes are now available in a hardcover, spiral-bound book that's beautiful and perfect for everyday use.